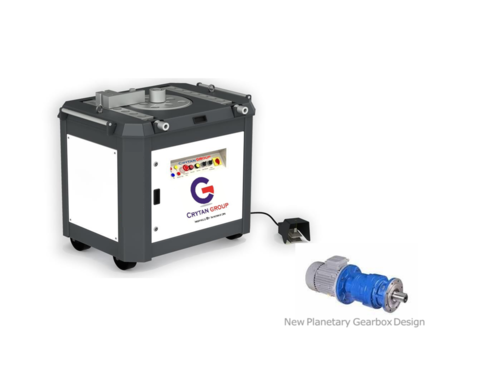 Trade Information
5000 Unit Per Week

2 Days
Product Description
A bar bending machine is required for bending steel reinforced bars. This machine is mainly demanded by the customers involve in construction. This portable machine can be used at the construction site for achieving the perfect bends in the bars used at the site. The operator can use controls on the machine to run it and bend the bars. Our company supplies three models of this machine, the selection of the right model can be made by understanding the requirements, like bend wheel diameter, maximum bend radius and bush size.
Bar Bending Machine

Get in touch with us to buy Crytan Bar Bending Machine, that is specially designed according to the Indian working conditions while keeping all provisions of safety. The parts and components of the machine are developed using advanced CNC Laser cutting, CNC turning and VMC.
This bar bending machine features double stage of Planetary gearbox design to reduce speed and improve performance. The gears and pin are made from allow steel material and further heat treated and flame hardened to improve the life of the gearbox and bar bending machine.
The electrical braking circuit incorporated within the machine works to safely stop the motor. This also eliminated the need to include a brake motor, hence reduced breakdown and maintenance of changing brake liners.
The CE certified electrical components of reputed make (Schneider, L&T) are used.This machine is incorporated with an imported heavy duty foot switch with atop cover that protects against falling debris and material at worksite.
The bar bending machine is on wheels, which makes it easier for the operator to move this machine when required at site.
Technical Specification of Bar Bending Machine
Model

RPM

Motor power kw (HP)

Bend Wheel Dia

Dimension L x W x H (mm)

Weight (kg)

Max bend radius (mm)

Bush Size (mm)

CBM42

9

3.7(5)

300

900x670x900

320

4D of 25
3D of 32

60, 70, 100

CBM52

9

3.7(5)

390

1050x780x900

385

5D of 32
4D of 36

60, 70, 100, 120, 160

CBM55

6

5.5(7.5)

500

1150x900x1070

530

6D of 36
5D of 40

60, 70, 100
120, 160 , 220
Bar Cutting Machine
Our production team designs and develops Crytan Bar Cutting Machine considering the Indian working conditions while keeping safety at priority.
All parts and components of bar cutting machine are designed using advanced software with apurpose to make this machine rugged, sturdy&maintenance free.
The cutting blades incorporated in the bar cutting machine are made from special hardened steeland can cut smallto big diameter steelrods.
The use of double stage of helical gearbox design reduces speed and significantly improves the life of blades.
The alloy steel is used for making the gears and the moving parts, which are then heat treated and flame hardened to improve their resistance against wear.
The flywheel is dynamically balanced, which is why there is minimum vibration, less noise during bars cutting. It also improves the life of the moving parts.
The bar cutting machine incorporates wheels for convenientmovement at site.
| | | | | |
| --- | --- | --- | --- | --- |
| Model | Dimension (L x W x H (mm) | Weight (kg) | Stroke/min | Motor kw (HP) |
| CCM42 | 1050x 570x870 | 400 | 90 | 4(5.5) |
| CCM52 | 1130 x 750 x920 | 565 | 60 | 4(5.5) |
| CCM55 | 1210x735x1010 | 750 | 60 | 5.5(7.5) |
Capacity
Model

CBM42/CPM42

CPM52/CPM/52

CBM55/CPM55

Dia of bar

36

32

25

20

16

12

10

8

40

36

32

25

20

16

12

10

8

40

36

32

25

20

16

12

10

8

TMT-FE500 50kg/mm

1

1

1

2

3

3

4

5

1

1

1

2

2

3

4

4

7

1

1

1

2

2

3

5

7

8

TMT-FE500D 60 kg/mm

1

1

1

2

3

4

5

1

1

1

2

3

4

5

6

1

1

1

2

2

3

5

6

8

TMT-FE 550D/FE600 70 kg/mm

1

1

1

2

3

4

5

1

1

2

3

3

3

5

1

1

1

2

2

3

5

6

8
TMT Spiral Bending Machine

| | | | | |
| --- | --- | --- | --- | --- |
| Model | RPM | Motor kw(HP) | Dimension size (mm) | Weight (kg) |
| CSBM52 | 10 | 1x 3.7(5.0) | 1050(W) x 780(L)900(h) | 385 |
Bending Capacity

| | | | | | | | | |
| --- | --- | --- | --- | --- | --- | --- | --- | --- |
| Dia of bar (mm) | 6 | 8 | 10 | 12 | 16 | 20 | 22 | 25 |
| CSBM 52 | 310 | 310 | 310 | 400 | 400 | 400 | 500 | 600 |
| | | | | |
| --- | --- | --- | --- | --- |
| Model | RPM | Motor kw(HP) | Dimension size (mm) | Weight (kg) |
| CBM52 | 10 | 2x 3.7(5.0) | 1050(W) x 780(L)900(h) | 390 |
Bending Capacity
| | | | | | | | | | | | |
| --- | --- | --- | --- | --- | --- | --- | --- | --- | --- | --- | --- |
| Dia of bar (mm) | 6 | 8 | 10 | 12 | 16 | 20 | 22 | 25 | 28 | 30 | 32 |
| Ring dia min.(mm) | 450 | 450 | 450 | 450 | 500 | 500 | 650 | 650 | 650 | 750 | 750 |
Get in touch with us